Whether you're getting married under the arched beams of a church or in the serene surrounds of a stately home, there's nothing like a wedding string quartet to provide the perfect romantic soundtrack to your quintessential English wedding. Just imagine the moment you walk down the aisle – or watch your spouse-to-be walking towards you – as a quartet of classical musicians take up their instruments and perform an achingly beautiful piece of music. There won't be a dry eye in the house.
The harmonies created by expertly played violin, viola and cello stir the emotions like no other instruments. For centuries composers have taken advantage of the magic created when these musical instruments are performed in unison, giving you a treasure trove of gorgeous music to choose from to accompany your wedding ceremony.
If you're not classically inclined, that doesn't mean you can't hire a wedding string quartet. Modern string ensembles are made up of versatile musicians who play arrangements of pop, rock, jazz, film and TV music just as well as they play the classics. This versatility means you can customise your wedding music to suit your theme, tastes and personality as a couple.
Their versatility makes string quartets the ideal daytime wedding entertainment: capturing the romance of your ceremony, setting a sophisticated mood during afternoon drinks and creating a mellow ambience during the wedding breakfast. You could even kick off your evening reception in style with a high-impact performance from an electric string quartet!
Find the string quartet for your classic English wedding below:
Sky String Quartet
Formed when they met at the prestigious Paul McCartney Liverpool Institute for Performing Arts, Sky String Quartet have already racked up a vast array of experience at VIP events, weddings and even on TV on Channel 4's Hollyoaks. These talented young musicians offer a varied repertoire that ranges from Pachelbel to Jurassic Park!
Sky String Quartet also specialise in performing their own arrangements of modern tunes by the likes of Coldplay, David Guetta and Sia to give your wedding drinks a classy yet contemporary feel.
Gracella Electric
Speaking of contemporary tunes, check our Gracella Electric! These exhilarating musicians create an atmosphere that crackles with excitement every time they take to their stage. Gracella Electric's choreographed performances of the biggest club hits by artists like Sigma, Bruno Mars and Calvin Harris will be a jaw-dropping addition to your wedding celebrations.
Arco Quartet
Another wedding string quartet that blends the modern and the traditional, Arco Quartet have the talent and experience to give you an unforgettable show on your special day. Since forming in 2011, Arco Quartet have graced the stage at illustrious venues throughout the UK, entertained at countless weddings and appeared on prolific songwriter Alistair Griffin's anthem for the 2014 Tour De France.
Suave Strings
Aptly named, Suave Strings are an impeccably stylish quartet of some of the UK's premier string musicians. These acclaimed musicians boast a repertoire that's crammed with music by everyone from The Beatles to Beethoven to Burt Bacharach! Also included in their impressively diverse selection of tunes are operatic numbers, hymns, rags, modern pop, and of course, all the traditional wedding marches.
Suave Strings delight in working closely with you to tailor their performance to be unique to your occasion.
Flower Quartet
One of the UK's premier string ensembles, Flower Quartet are a collection of classical musicians who were trained at London's top conservatoires. Exceptional performers, Flower Quartet have appeared alongside huge names like Katie Melua, Leona Lewis and Enya.
Whether they're performing traditional wedding music or a piece from film, television or the modern charts, Flower Quartet always deliver a polished performance. As well as their standard quartet line-up, you can hire these talented ladies as a duo or trio, or even an 8-piece ensemble.
Melody String Quartet
Coldplay's Viva La Vida, performed by Melody String Quartet
Melody String Quartet is made up of four exquisitely talented string players who've been performing together for many years. Their vibrant performances of a cocktail of classical favourites, rock anthems and swing standards will leave you and guests delighted. If you're planning a winter wedding, Melody String Quartet also offer a comprehensive selection of Christmas songs to get you and your guests in the festive spirit.
Elegant Strings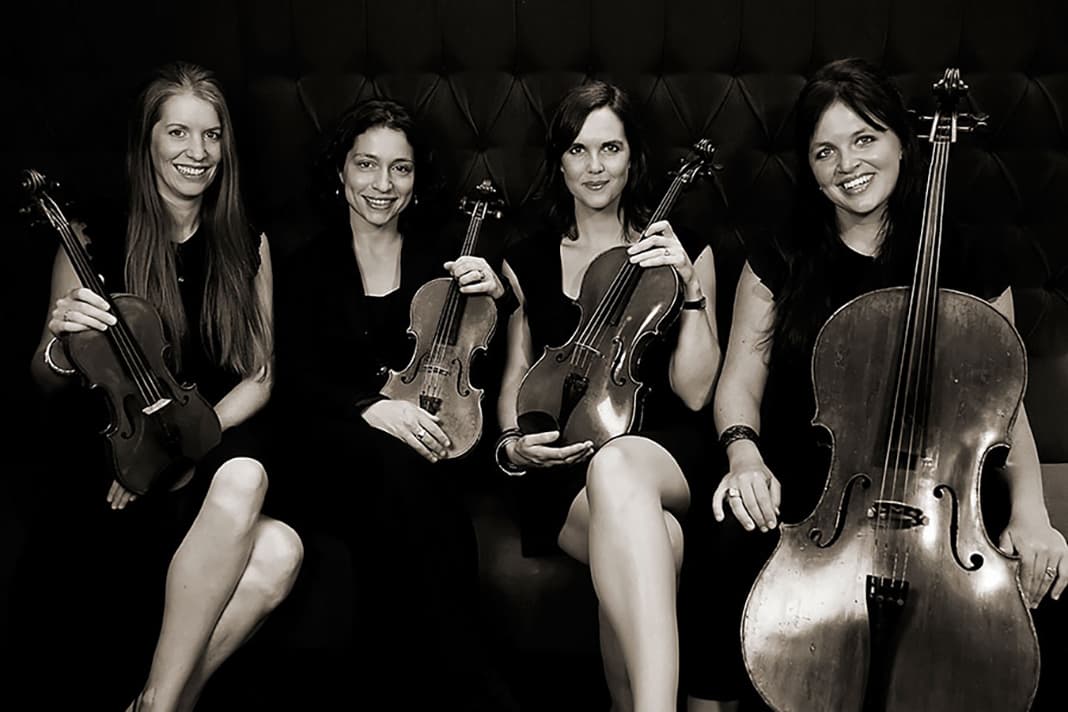 Pachelbel's Canon in D, performed by Elegant Strings
Another of the UK's top wedding string quartets, the members of Elegant Strings can also be seen performing for The English National Opera, The Royal National Theatre, The BBC Concert Orchestra, The Royal Philharmonic, The Royal Opera House and for a multitude of West End shows. That's some CV!
Elegant Strings effortlessly perform outstanding interpretations of classical wedding processional music like 'Arrival of the Queen of Sheba' and 'Here Comes the Bride', as well as modern wedding entrance songs like 'She' and 'Bittersweet Symphony'.
Radiance Quartet
Radiance Quartet will illuminate your wedding with their flawless performances of music by virtually any composer you care to name. Drawing upon an abundance of experience performing with numerous orchestras and chamber groups, Radiance Quartet bring the music to life with their enchanting arrangements and delicate playing.
The perfect pairing for a classic English wedding, Radiance Quartet include a selection of traditional Irish and English music to imbue your day with olde worlde charm.
The Elegante Ensemble
Adding a piano to round out the sound of a traditional wedding string quartet, The Elegante Ensemble are award-winning performers in high demand. Called 'simply beautiful' by BBC Introducing, The Elegante Ensemble will thrill you and your guests with their evocative performances of the most stunning music ever written.
How To Hire Your Wedding String Quartet
To hire any of these sensational string quartets to perform at your wedding, simply visit their profile over on the Entertainment Nation website and complete the short enquiry form. If you have any questions, don't hesitate to get in touch with Entertainment Nation's team of friendly, expert wedding entertainment advisers. They're available every day between 10am and 10pm to help match you with your dream wedding entertainment!
Arco QuartetEntertainment NationGracella ElectricMelody String QuartetRadiance Quartetstring quartetsSuave Stringswedding entertainment