Hi everyone! I can't resist writing up this little wedding blog, inspired by last week's red carpet performances – oh, and some films. Seeing the Oscar winners announced and watching TV news's analysis of all the best dresses on the night really got me thinking.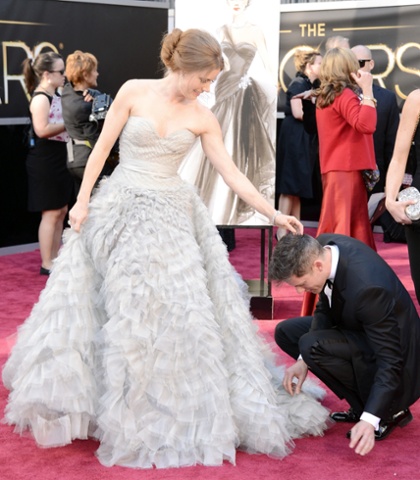 Hollywood glamour is a great inspiration for wedding themes. But let the Oscars inspire your big day too much, and you could have a disaster on your hands! Here's why.
Have we all lost the plot?
Watching ITV Daybreak (shoot me now) last week, I began to wonder if there was an alternative Oscars, something I hadn't heard of. I was vaguely puzzled to see a parade of dresses, paparazzi-style flashbulbs and glowing teeth. All very pretty – but aren't the Oscars supposed to be about films?
Suddenly expensive dresses seemed to take centre stage, and the real stars – the directors, producers and immensely talented actors – were nowhere to be seen. Sadly, I've seen the same phenomenon in wedding magazines and across the wedding industry.
A wedding shouldn't be all about the dress. Sorry – I missed the capitals there, didn't I?! The most important thing in a wedding is The Marriage, not to forget The Bride and Groom. Wedding magazines are all very pretty – but aren't weddings supposed to be about love?
Your star performance and that red carpet moment
You step onto the red carpet as a sea of eyes turn your way. It's your moment, your five minutes of fame.
Everyone is astonished by your beauty and poise. You've mastered the walk; the serene smile, and you're fairly confident you won't fall over (despite wedding nightmares about dashing up the aisle in your pants and landing flat on your face halfway down it).
Grooms – if this is you, get help. Brides – widen your horizons.
Just like the Oscars, there's more to the occasion than five minutes at the beginning of the event. Look forward to the big moments; the emotions, the tears and the celebrations. Share the happiness with everyone you love, and who loves you. A wedding isn't a performance to impress your nearest and dearest: it's a day to enjoy together with people you love.
Reaching for the stars
Your day, your way, right? Your wedding is an excuse to splash out on luxuries, to treat yourselves to those Louboutins you've always wanted, dine on foie gras at a five star mansion with Michelin stars and a string quartet who'll play Lady Gaga when you click your fingers.
It's your chance to have everything you can dream of, no expense spared – even if it means you can't afford a Starbucks again until 2018.
You know where I'm going with this one though… it's all too easy to max out the credit card because you want your wedding day to be perfect. But it shouldn't have to be this way!
We can't all live the celebrity lifestyle and some of the most amazing weddings I've ever seen have been low-key, intimate celebrations where love takes centre stage, leaving glitz and glamour behind.
The real stories behind the silver screen
There's no way Anne Hathaway looks that gorgeous all the time. I like to think of her curled up in pyjamas, no make-up and munching on a slice of toast which she may or may not dip into her tea. Same goes for Minnie Driver.
On Oscar night, everyone puts on a big show: dazzling smiles, polished stories and soundbites for the press. Real life takes a back seat as celebs compete for media attention and their share of the glory. Everyone at the Oscars is faking it just a little.
Don't let our culture's obsession with glamour and looking perfect cast a shadow over your wedding day. It's fine to be glowing with health if you look and feel amazing – diet and have spa treatments if you like.
But don't starve yourself; don't dress in a style that doesn't feel right for you. Just because Moss Bros say you should wear a waistcoat and a tie doesn't mean you have to!
Hell – be a rebel and skip the cravat; choose a floaty dress from Monsoon over a boned and corseted gown if that's more your style.
The best weddings are the most personal: they reflect you as a couple. You're not actors in costume for a show: be yourselves and celebrate in your own, genuine, wonderful style.
hollywood wedding themeoscars 2013oscars inspired weddingwedding blog